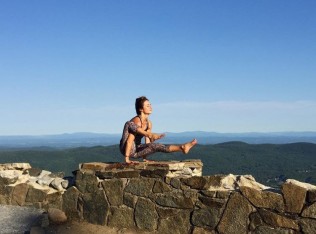 saturdays at 9:00am with giuliana carducci
union square starting sat, jan 14th
9:00-10:15am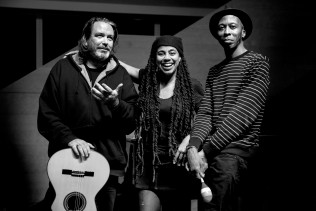 Community Night with Sula & the Noise and Grow NYC
Friday, January 27, 7:00 to 9:00pm
$20 suggested donation, proceeds go to Grow NYC
The Shala Union Square
in the spirit of unity, the shala will begin hosting regular community nights. this is an opportunity for teachers, staff, students, and friends to hang out, enjoy music, readings, and lectures, and generate conversation around meaningful social, political, and spiritual matters.
read more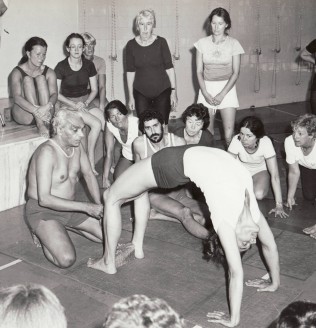 200 hour shala teacher training
February to October 2017
the shala union square
read more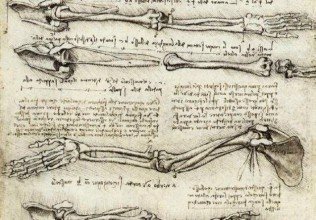 Pathways of Weight: Alignment through Relationship with Amy Matthews
Saturday: March 4th, 12 to 3 Spine: Head to Tail, Sunday: March 19th; 12 to 3 Upper & Lower Limbs
$60 for single workshop*
the shala union square
read more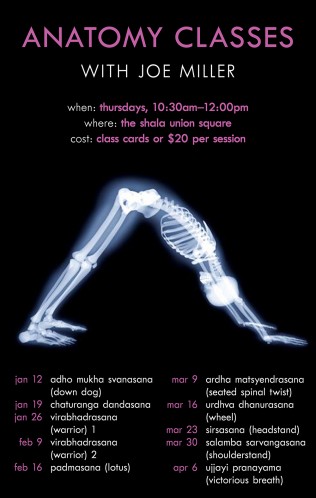 anatomy classes with joe miller
thursdays, 10:30-12:00
$20 per session or class card
the shala union square
read more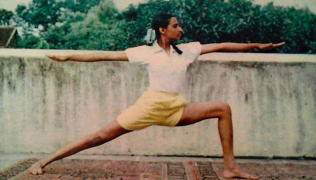 January New student special
$30 for two weeks of yoga! only for brand new students to the shala.
no matter your age or fitness level, we aim to inspire ease and clarity of mind that lasts long after you roll up your mat. Try our best new student offer for the month of january.
Go to schedules to find a class. sign up on line or in person before class starts. Wear comfortables clothes. Bring a mat or rent one in-studio. Enjoy!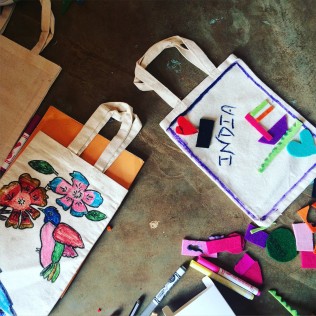 Art Supply Drive to Benefit Operation Shanti
The shala union square
Please consider donating the following:
oil pastels
brushes
water colors
origami paper
colorful tissue paper
markers
Flowered duffel bag to collect supplies will be in the ladies changing room until Tuesday Jan 24th.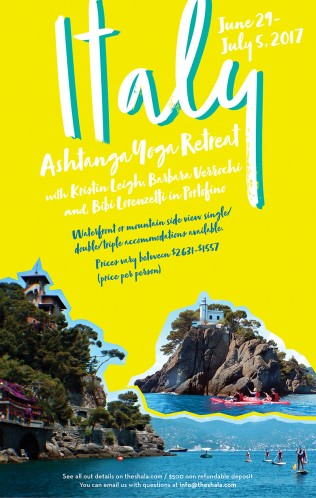 Ashtanga retreat in Portofino, Italy with Kristin, Barbara, and Bibi
June 29-July 5th
Hotel regina elena, santa margherita
read more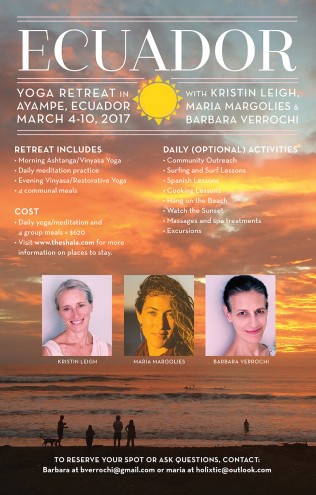 Yoga Retreat in Ayampe, Ecuador with Kristin Leigh, Maria Margolies, and Barbara Verrochi
March 4-10, 2017
read more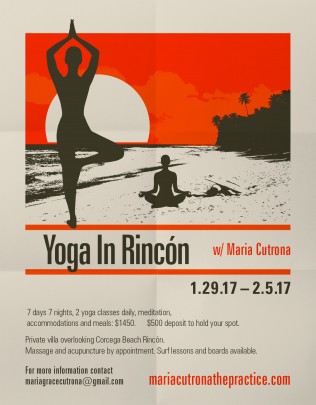 puerto rico retreat with maria cutrona
read more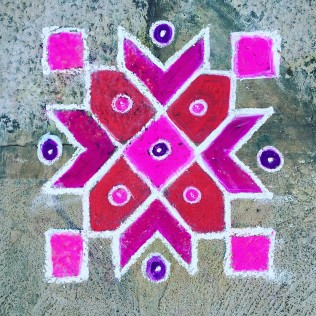 rangolis in the shala gallery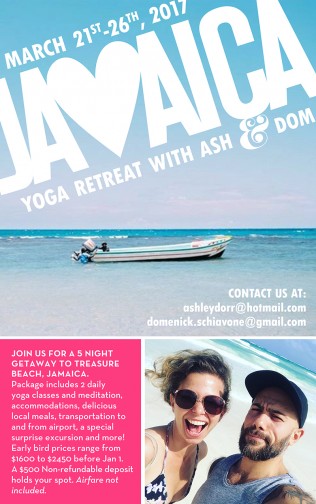 Jamaica yoga retreat with ashley and domenick
March 21-26
read more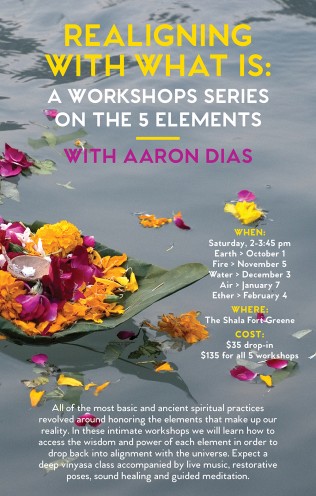 realigning with what is: WORKSHOP SERIES ON THE 5 ELEMENTS WITH AARON DIAS
Saturdays, 2-3:45 pm: Oct 1, Nov 5, Dec 3, Jan 7, Feb 4
$35 drop-in, $135 for all 5 workshops
the shala fort greene
read more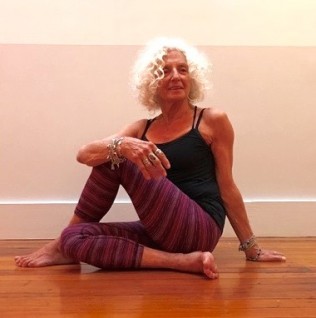 Senior yoga class taught by Babette Becker
Mondays, 12:00
Re-awakening the body
Beginning yoga class for older adults who want to gain strength, flexibility and balance by working with breath and movement. There will be particular attention to alignment and any modifications necessary to protect the health of bones, muscles, joints.
You are never too old, too stiff, too fat, too thin, too sick to start your yoga practice.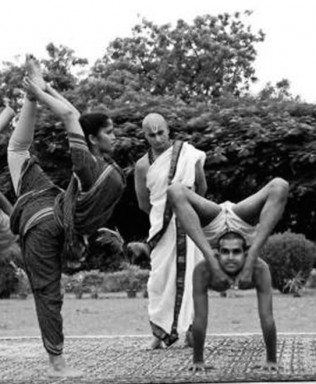 300 hour advanced shala teacher training
February to October 2017
the shala union square
read more
get cozy with the shala book club
read more