David Swenson is a wonderfully warm, skilled teacher and practitioner of Ashtanga Yoga. We can't wait to study with him next month.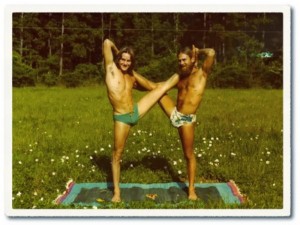 What do you hope people take with them into their daily practice? What does the yoga community need to do to take the practice of yoga to the next level?
Hopefully people will leave with a renewed energy and inspiration. Ashtanga is a lifelong journey, and one will move through many phases of relationship with the practice. By spending time with people that have been doing this for decades, they should come away with tools to keep them moving forward in their own practice.
The next level really means the weaving of the practice into other areas of life off of the mat. The next level does not mean more flexibility or strength but rather a deeper understanding of the realms of yoga that cannot be seen. The subtle aspects and their applications are the real next level. This can be achieved through the development and fostering of patience, awareness of our actions and interactions in daily life, and the willingness to make changes in our life to suit the most current needs of our situation. Weaving yoga into everyday experience is the goal. When we can blur the lines between practice and daily life we are moving in the right direction!
Yoga International, February 2014