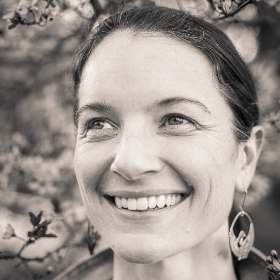 Katie Schuessler came to yoga in 2004 after injuring her back and was astonished with the healing that took place in her body, as well as the deeper wisdom and awareness that began to unravel through practice.
She started practicing Ashtanga yoga in 200, and in 2015 Katie completed her 200-hour yoga teacher training with Richard Freeman and Mary Taylor. In 2020, she completed the Shala's 300-hour teacher training under the guidance of Kristin Leigh and Barbara Verrochi. Katie is grateful to all of her teachers throughout the years, including Freedom Kimple, Troy Lucero, and Maria Rubinate. 
In her classes, Katie emphasizes trusting, honoring, and listening to the body, as well as developing awareness and self-care through the breath. Inspired by the Ashtanga yoga tradition, her classes are an invitation to stay present while engaging in a dynamic flow with curiosity and love.
Katie is a visual artist and teaching artist in Brooklyn. She is interested in the intersection of creativity, meditation, and healing. She also loves writing, dancing, and spending time outdoors.