events & workshops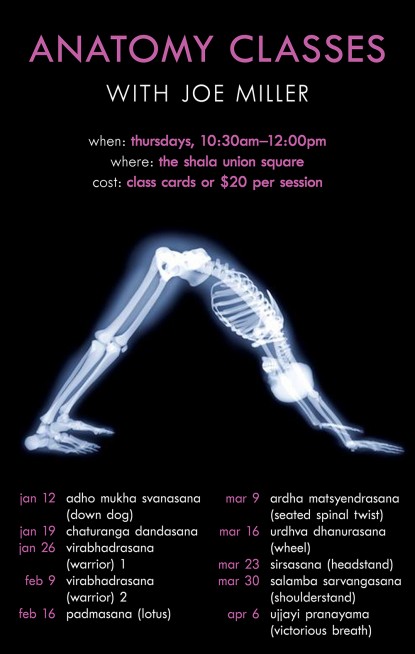 anatomy classes with joe miller
thursdays, 10:30-12:00
$20 per session or class card
the shala union square
Jan 12 Adho mukha svanasana (Down dog)
Jan 19 Chaturanga dandasana
Jan 26 Virabhadrasana (Warrior) 1
Feb 9 Virabhadrasana (Warrior) 2
Feb 16 Padmasana (Lotus)
Mar 9 Ardha matsyendrasana (Seated spinal twist)
Mar 16 Urdhva dhanurasana (Wheel)
Mar 23 Sirsasana (Headstand)
Mar 30 Salamba sarvangasana (Shoulderstand)
Apr 6 Ujjayi pranayama (Victorious breath)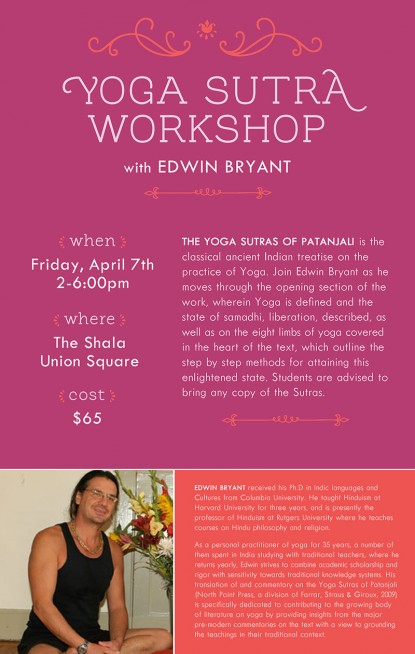 The Shala Welcomes back Edwin Bryant!
Teaching a workshop on the Yoga Sutras of Patanjali
Friday, April 7, 2:00 to 6:00pm
$65
The Shala Union Square
sign up here
The Yoga Sutras of Patanjali is the classical ancient Indian treatise on the practice of Yoga. While Yoga conjures up images of bodily postures and stretches in popular western culture, this aspect of yoga, the asanas, is only the third limb of the eight limbs outlined in the Yoga Sutras — and, indeed, Patanjali pays only passing attention to this aspect of the system. This seminar series will consist of a close reading of Patanjali's original text, focusing on the opening section of the work, wherein Yoga is defined and the state of samadhi, liberation, described, as well as on the eight limbs of yoga covered in the heart of the text, which outline the step by step methods for attaining this enlightened state. Attention will be paid to the pre-modern commentaries of the text, thus exposing students to the traditional understanding of the practice of classical Yoga and its goals. Students are advised to bring any copy of the Sutras which has the Sanskrit text in romanized script as attention will be focused on the original source rather than its westernized manifestation.
Edwin Bryant received his Ph.D in Indic languages and Cultures from Columbia University. He taught Hinduism at Harvard University for three years, and is presently the professor of Hinduism at Rutgers University where he teaches courses on Hindu philosophy and religion. He has received numerous awards and fellowships, published six books and authored a number of articles on Vedic history, yoga, and the Krishna tradition. In addition to his academic work for the scholarly community, Edwin's Penguin World Classics translation of the Srimad Bhagavata Purana, the traditional source for the story of Krishna's incarnation, is both for Indology specialists as well as students and those interested in Hinduism from the general reading public and the yoga community. As a personal practitioner of yoga for 35 years, a number of them spent in India studying with traditional teachers, where he returns yearly, Edwin strives to combine academic scholarship and rigor with sensitivity towards traditional knowledge systems. In addition to his academic course load, Edwin currently teaches workshops on the Yoga Sutras, Bhagavad Gita, and Hindu Philosophy at yoga studios and teacher training courses throughout the country. His translation of and commentary on the Yoga Sutras of Patanjali (North Point Press, a division of Farrar, Straus & Giroux, 2009) is specifically dedicated to contributing to the growing body of literature on yoga by providing insights from the major pre-modern commentaries on the text with a view to grounding the teachings in their traditional context.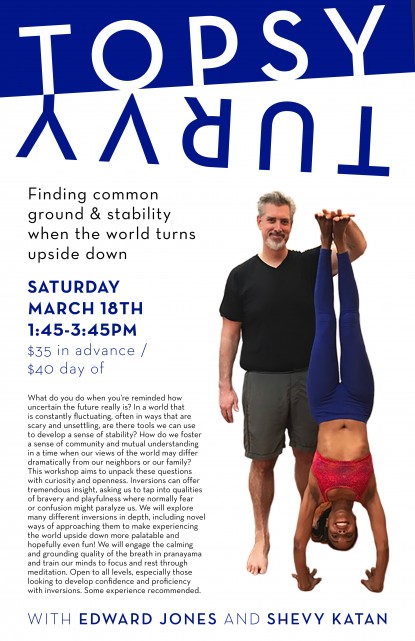 Topsy Turvy, a workshop with Edward Jones and Shevy Katan
Finding common ground & stability when the world turns upside down.
saturday, march 18, 1:45 to 3:45pm
sign up here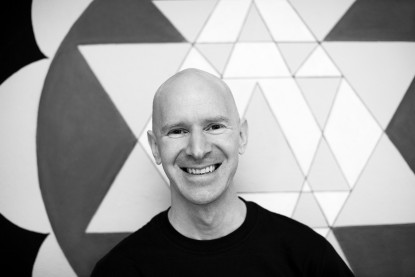 Action, Purpose, and Social action, a Lecture with Eddie Stern
Friday, March 24th, 6:30 to 8:00pm
$30
The Shala Union Square
sign up here
Yoga, which is a practice that originated in the Hindu tradition, speaks of two activities of the universe, karma (action) and dharma (purpose). Throughout our lives, we float in and out of alignment with these two, sometimes knowing who we are and what we should do, and sometimes not. In this evening's lecture, we'll talk about these concepts, and how social engagement can help to clarify our purpose and lead to positive action.
Eddie Stern is a yoga teacher, author, and lecturer. He lives in Brooklyn, NY.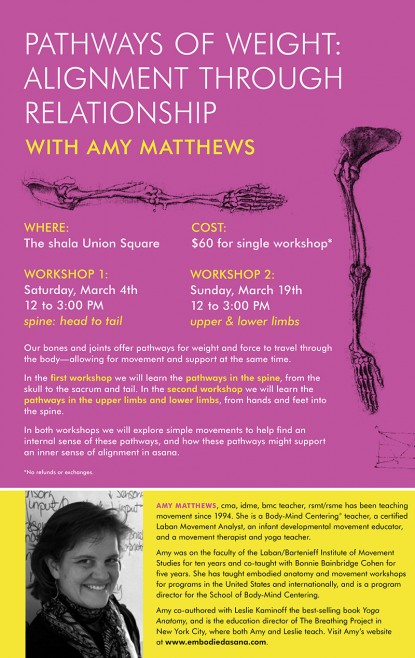 Pathways of Weight: Alignment through Relationship with Amy Matthews
Saturday: March 4th, 12 to 3 Spine: Head to Tail, Sunday: March 19th; 12 to 3 Upper & Lower Limbs
$60 for single workshop*
the shala union square
sign up here
Our bones and joints offer pathways for weight and force to travel through the body – allowing for movement and support at the same time.
In the first workshop we will learn the pathways in the spine, from the skull to the sacrum and tail. In the second workshop we will learn the pathways in the upper limbs and lower limbs, from hands and feet into the spine.
In both workshops we will explore simple movements to help find an internal sense of these pathways, and how these pathways might support an inner sense of alignment in asana.
*No refunds or exchanges.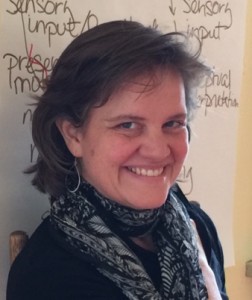 Amy Matthews, CMA, IDME, BMC Teacher, RSMT/RSME has been teaching movement since 1994. She is a Body-Mind Centering® Teacher, a Certified Laban Movement Analyst, an Infant Developmental Movement Educator, and a movement therapist and yoga teacher.
Amy was on the faculty of the Laban/Bartenieff Institute of Movement Studies for ten years and co-taught with Bonnie Bainbridge Cohen for five years. She has taught embodied anatomy and movement workshops for programs in the United States and internationally, and is a Program Director for the School of Body-Mind Centering.
Amy co-authored with Leslie Kaminoff the best-selling book Yoga Anatomy, and is the Education Director of The Breathing Project in New York City, where both Amy and Leslie teach. Visit Amy's website at www.embodiedasana.com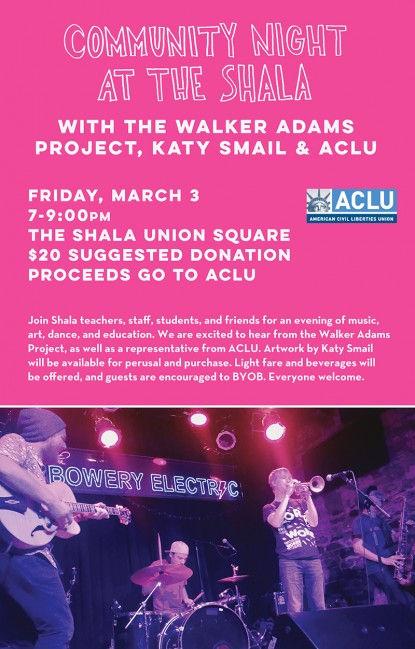 The Shala Community Night with the Walker Adams Project, Katy Smail and ACLU
Join Shala teachers, staff, students, and friends for an evening of music, art, dance, and education.
Friday, March 3rd, 7:00 to 9:00pm
$20 suggested donation (all proceeds to go ACLU)
The Shala Union Square
We are excited to hear from the Walker Adams Project, as well as a representative from ACLU. Artwork by Katy Smail will be available for perusal and purchase. Light fare and beverages will be offered, and guests are encouraged to BYOB. Everyone welcome.
Bios + Mission Statement
The Walker Adams Project
Enticing the mind and compelling the booty, Walker Adams Project plays danceable funk-jazz. The Berklee grad and former St. Vincent drummer leads his group of schooled musicians through catchy and original songs featuring infectious grooves, soaring melodies, and blistering solos.
ACLU
For almost 100 years, the ACLU has worked to defend and preserve the individual rights and liberties guaranteed by the Constitution and laws of the United States.
Katy Smail
Katy Smail is a Scottish artist based in Brooklyn, NY, where she works as an illustrator, painter, and art director.