About the Shala
In 2002, Kristin Leigh and Barbara Verrochi opened The Shala in Union Square with the intention of creating a space where fellow practitioners could gather, breathe freely, build strength, and find ease in their bodies. In June 2011, The Shala expanded to Fort Greene, where the Lafayette Avenue location has since become a cozy sanctuary for Brooklyn-based yogis.
Yoga originated in India and is one of the six systems of Indian thought. We honor and respect the roots of Yoga through chanting, harmonium-playing, philosophical discussion, and use of Sanskrit posture names. The Shala's core offerings include daily Ashtanga and Vinyasa classes, meditation, and pranayama. Asana classes are taught with consistency and authenticity under the guidance of certified teachers. Additional offerings include lectures and workshops, anatomy lessons, monthly kirtans, 200-hour and 500-hour teacher trainings, a unique mentorship program, and international retreats.
Kristin and Barbara are grateful for the amazing community that has blossomed around this practice. They offer deep thanks to their team of skilled and loving Shala instructors, their dedicated students, and their own mentors and teachers—Sri K Pattabhi Jois, Sharath and Saraswati Jois, Eddie Stern, Sharon Salzberg, and Pema Chodron.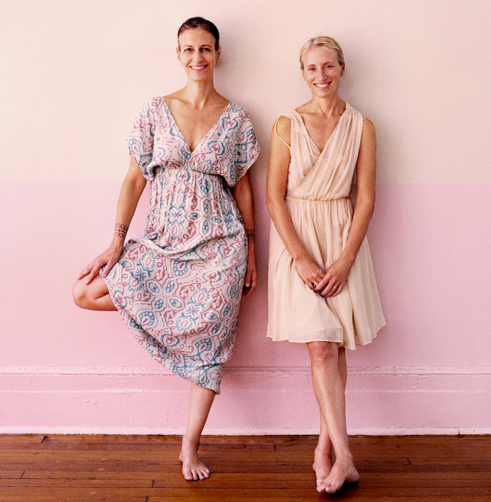 The Shala's Racial Justice Initiative
The Shala is committed to processes of racial justice and equity, and we are actively working to reflect this commitment in our operations, policies, and practices. You can learn more about The Shala Racial Justice Initiative here.
"for the best atmosphere in town, you need not look any further than the shala. the rickety staircase, high ceilings, and creaky wooden floors provide new york yogis with a singular practice space that is rarely found in today's corporate yoga industry. it's a gift and a luxury and no time spent here is ever wasted."
michael laskaris YogaCity NYC
"the Shala has been my yoga studio downtown and home away from home for the past ten years. Owners Barbara and Kristin have managed to create, in the center of all this hellish urban melee, a peaceful, grounded sanctuary that radiates spiritual truth and goodness. They attract a following of badass, ball-busting creative types who truly value serenity, service, calmness, and inner strength over being a rigid workaholic asshole. I can't (no joke) live without it."
molly guy, creative director stone fox bride