The Shala 300-hour Teacher Training
October 2021 - April 2022
Online and In Studio
Scholarships for BIPOC yogis
Yoga Alliance Certified
For more information email info@theshala.com
OVERVIEW
At the Shala, we value an ongoing commitment to education and development as practitioners and instructors. We believe that a strong and sustained personal practice is what allows teachers to continue flourishing in their craft. We believe, too, that the challenges and complexities of modern life call for steady guides dedicated to teaching peace, compassion, and skillful action.  Our 300-hour advanced teacher training invites trainees to delve more fully into the physical, philosophical, practical, and professional dimensions of yoga. 
COMMUNITY
Graduates of our program often share that one of the most rewarding aspects of this training is the opportunity to bond, collaborate, and build community with one another. We emphasize partner and small-group dialogue as a means of exploring yoga's many facets from different perspectives and lived experiences, and of facilitating enduring friendships.
OUR 300-HOUR TRAINING FOCUSES ON: 
Advanced asana study, including sequencing, yoga therapy, anatomy, and physiology

Pranayama and meditation 

Lineage and history of yoga

Immersive study and discussion of Buddhist and yogic philosophies

Sanskrit pronunciation and chanting

Skill-building for effective and accessible meditation instruction

Sharing contemplative and embodiment practices with diverse communities

Exploring the relationship between yoga, Buddhism, and social justice

Fostering supportive, generative friendships within each training cohort

Final research project/presentation and mentorship
FINAL RESEARCH PROJECT 
The 300-hour Training provides an opportunity for trainees to work one-on-one with a senior teacher to investigate particular subjects of interest, practice teaching, review sequences, learn chants, hone teaching voice, and more. All trainees conceive of, carry out, and present an individual research project on a subject of their choosing. The research project will culminate in a final oral presentation and related asana class. Some past research projects include:
How yoga impacts different systems of the body

The relationship between yoga and social action

Yoga viewed in a historical context

Sequencing and assisting (verbal and hands-on)

Co-teaching classes, workshops, and retreats

Classical texts of the yoga canon

Reading, speaking, writing, and memorizing Sanskrit

Yoga therapy and yoga for particular conditions

Writing and delivering dharma talks that illuminate asana practice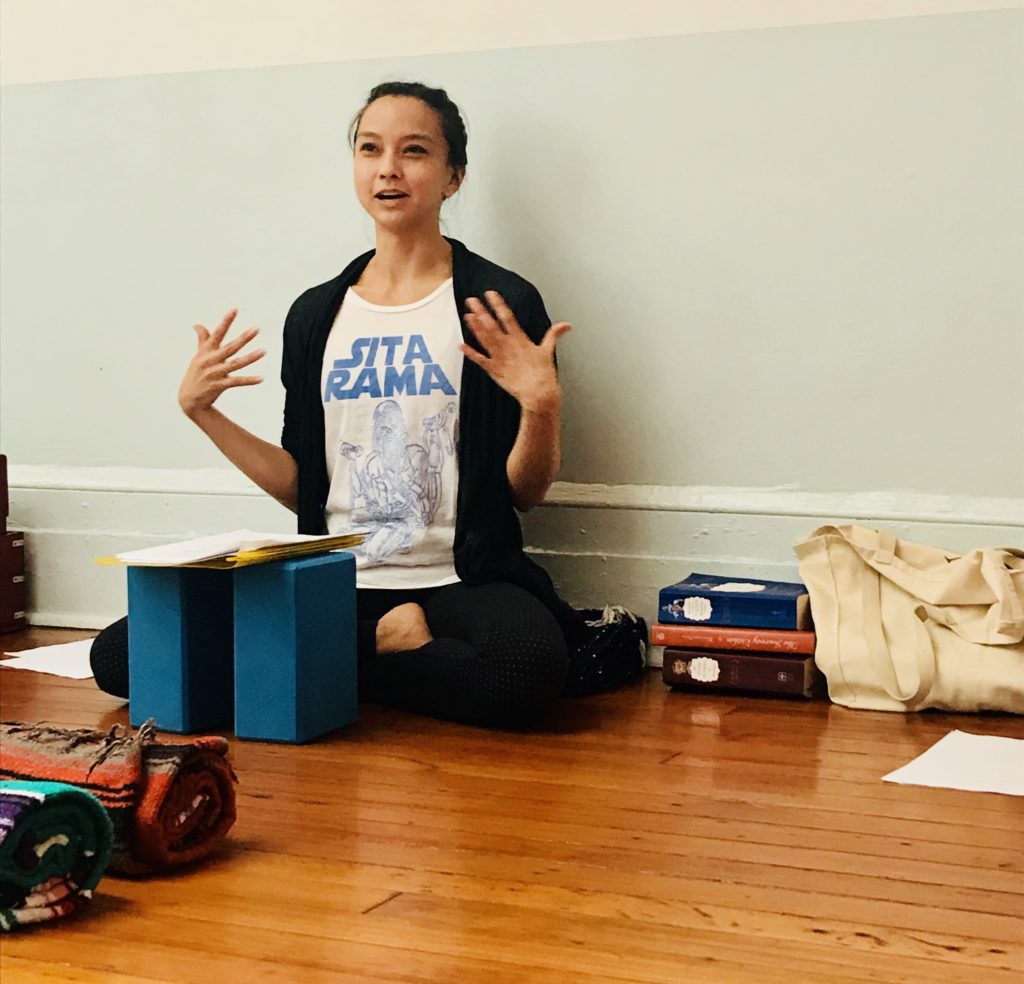 SCHEDULE 
Weekends as well as Wednesday or Tuesday evenings (October 27th to January 26th).
October 23-24

November 6-7

November 20-21

December 4-5

December 18-19

January 8-9 

January 22 - 23

February 5-6

February 19-20 

March 5-6

March 19-20

April 2-3

April 16-17
Hours:
Wednesdays or Tuesdays (Buddhist Studies), October 27 - January 26, 6:30-8pm
Saturdays, 8am-3:30pm
Sundays, 9am-4:30pm
TEACHERS: Barbara Verrochi, Kristin Leigh, Shala Teachers & Guests
PRE-REQUISITES
200-hour certification or teaching experience

Minimum 5 years of consistent yoga practice

A completed 300-hour teacher training application. Email info@theshala.com for more information.
REQUIREMENTS
Attend 30 asana classes at The Shala 

Attend one or more weekly meditation classes at The Shala 

Attend scheduled meetings 

Attend scheduled peer meetings for practice, study, and practice teaching

Complete all written homework and required reading
TUITION
Early Bird: $3500 full payment before September 15th. 

$3700 after September 15th. A $500 non-refundable deposit is required before training begins. 

Payment plans accepted. Add $75 to total cost.

Work study is available for discounted tuition.

Partial scholarships are offered for BIPOC students, in keeping with The Shala's aspirations for a more racially diverse teaching body.