events & workshops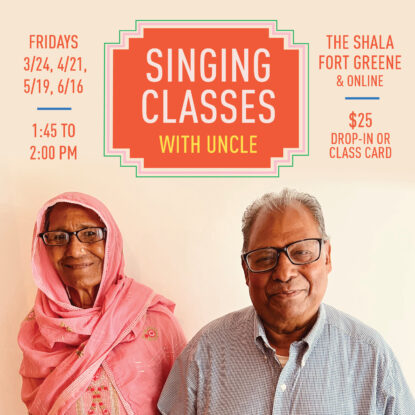 Singing Classes with Uncle
Come sing call and response with Gulam Mohammed Mirashi, Master Vocalist and Teacher.
Fridays 3/17, 4/21, 5/19, 6/16, 1:45-2:30pm
$25 drop-in or class card
The Shala Fort Greene
sign up here
The singing, chanting, and harmonium-playing that you know and love from Shala classes is directly influenced by the teachings of Ustad Gulam Mohammed Mirashi, affectionately known as "Uncle." He is the seventh generation of his vocal line, drawing from the Agra Gharana as well as regional influences from his native Rajasthan. All lessons include scale work, philosophy, and call-and-response singing.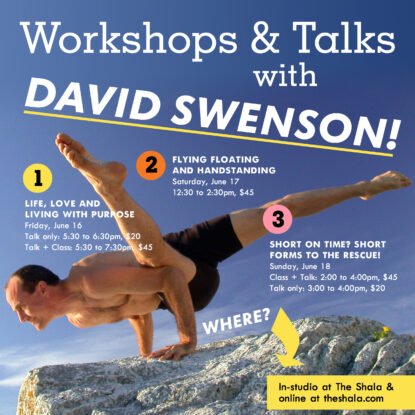 Workshops + Talks with David Swenson!
David Swenson is back! One of our favorite teachers filled with wisdom and humor. Don't miss the chance to be in his presence.
To sign up: click on date of workshop on our schedule page and sign up.
June 16 - 18
$45 Class + Talk, $20 Talk Only
The Shala Fort Greene + Online via Zoom
sign up here
sign up here for online
Life, Love and Living With Purpose
Seeking A Path, Building Dreams and Finding Peace
Friday, June 16
Talk only: 5:30 to 6:30pm, $20
Talk + Class: 5:30 to 7:30pm, $45
David will share Stories, Anecdotes and Insights gained over his more than 40 years of yoga practice and pursuits of spiritual life, love, health and adventure. David is a witty, humorous and inspiring storyteller. His life is filled with colorful, sometimes wild, sometimes sad, sometimes hilarious and always entertaining pursuits of knowledge of the world around him and the wonders that reside within us all. Within his tales of travel, fasting, chanting, seeking, studying, laughing and crying there is always a thread of sincerity of purpose that anyone seeking greater meaning of life can relate to and possibly even gain tools of insights of their own from the mistakes, successes, failures, triumphs and bumps along the road of life that David shares with honesty and heart-felt sincerity.
Buckle Up It's a Wild Ride!
After the discussion, David will lead the group through a slow-flowing Short Form routine accessible to all levels of practitioner. The flow will include asanas from the standing sequence, seated postures, and an abbreviated closing sequence. As always, David will offer alternatives and options. Participants are sure to leave feeling refreshed and mellow.
Flying Floating and Handstanding
A Fun-filled exploration of Vinyasa and Arm-balances
Saturday, June 17
2:30 to 2:30pm, $45
One of the greatest challenges of the Ashtanga flow is the vinyasa. In this class David will break the vinyasa down into its basic components in order to explore techniques for creating greater lightness and efficiency of practice while using less effort to achieve greater ease.
In addition to vinyasa the class will also explore elements of handstands and arm-balances. It is common to feel intimidated or even frightened by balancing on our hands. David will address this issue and offer practical methods of approach to allow for greater confidence and ability that can be carried away and applied within a personal practice. There will be partner work as well as individual techniques offered. There is always plenty of laughter and fun as well as a depth of information in David's classes. All levels may attend even if you have never done a handstand before. Alternatives are always given.
Come and Experience the Joy of Flight!
Short on Time? Short Forms to the Rescue!
Designing a perfect personal practice to fit within a busy life.
Sunday, June 18 
Class + Talk: 2:00 to 4:00pm, $45 
Talk only: 3:00 to 4:00pm, $20
Yoga is medicine. It is essential to ascertain what practice dosage is most appropriate for our needs. Outside the traditional Ashtanga Yoga series, David created abbreviated asana flows that students may utilize to develop or maintain their home practice.
David will conduct one of his Short Form sessions in this unique class. He will then explain how students may develop routines of their own. By understanding the underlying logic, structure, and inherent energetic rhythms of vinyasa patterns, it is possible to utilize the system's intelligence to create holistic and fulfilling asana sequences explicitly crafted for your personal needs.
As always, David will infuse his depth of knowledge with humor and heartfelt insights.
This class is excellent for Ashtanga enthusiasts as well as Vinyasa flow practitioners.
There will be time at the end of class for questions and answers.
All levels are welcome!
David Swenson is recognized as one of the world's foremost practitioners and instructors of Ashtanga yoga. He began practicing yoga at the age of 13 and has teaching yoga for over 40 years. He is known for both the depth of his personal practice and his ability to transmit the knowledge of yoga in a down-to-earth manner filled with joy, humor and sincerity.