events & workshops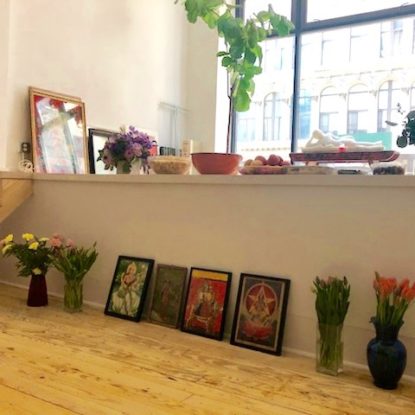 816 Broadway Renovation Fundraiser
Our move from 815 to 816 is complete! THANK YOU for all your support, and for your contributions to the renovation fundraiser (which is still in effect!). We are so grateful. please consider donating $25-$100+ to our renovations fund!
sign up here
Wishing you and your family peace, joy, and love in the New Year.
Love Barbara and Kristin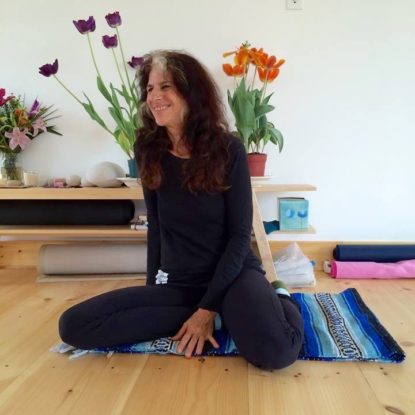 save the date: nancy gilgoff
We are honored and delighted to welcome master ashtanga teacher Nancy Gilgoff to the Shala. Save the date: Saturday, October 20 and Sunday, October 21. Sign up coming soon! For more information email info@theshala.com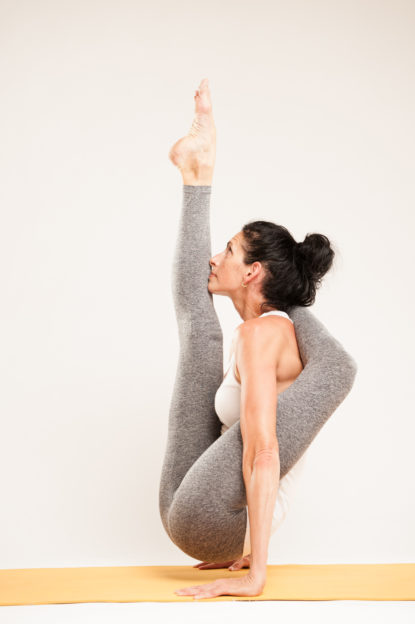 Ayurveda and ashtanga yoga workshops with lisa schrempp
March 24-25
the shala union square
sign up here
daily routine as healing method (lecture) Sunday 3/25, 9;30 to 11:00
Daily routines enhance well being when they are balanced with Mother Nature. A strong regular repeated pattern of movement, sound, food, digestion and sleep provide the platform for balance between the micro and macro cosmos. This interfacing between the individual and the community surrounding her creates a flow of intelligence, artistry and joy.
Cost: $30. All sales are final. There are no refunds/credits for missed workshops.
Quelling Inflammation with Self-Care (lecture)  Sunday, 3/25, 12:15 to 2:15
The din of chronic inflammation as the underbelly of disorder in body, mind and relationship. Many diseases today whether they be personal, social and or universal levels may have been started from something good that went wild. Inflammation in our bodies, minds, bank accounts, country and spiritual practice can be the source of good gone bad.  This workshop will focus on practices from Ayurveda and Yoga to reduce inflammation and settle down into SELF care.
Cost: $45. All sales are final. There are no refunds/credits for missed workshops.
Lisa began her studies of yoga in 1985 with David Life and Sharon Gannon of Jivamukti Yoga and has been practicing Ashtanga Yoga since 1992. She made her first trip to Mysore, India to study with Sri. K Pattabhi Jois and Sharath Jois in 1993. After several trips to Mysore, Lisa received Sri K Pattabhi Jois's blessing to teach in 1997, and received Level 2 Authorization from Sharath Jois in 2009. With over 18 years of experience in Ayurveda, Lisa is a seasoned practitioner and has studied extensively with Dr. Vasant Lad, Dr. Sunil Joshi, Dr Anil Kumar and Dr. Robert Svaboda. In addition, she holds a Yoga Therapy Certificate from B.K.S. Iyengar which was granted in 1996. Lisa is extremely grateful to her teachers and their teachers for passing on the sciences of Yoga and Ayurveda.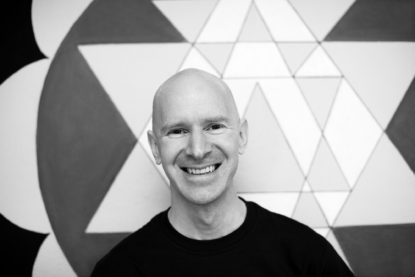 Yoga & Resonance: A talk & breathing practice session with Eddie Stern
Friday, February 23rd 6:30 to 8:30
$40
sign up here
When two or more things relate harmoniously, such as when I relate well to you, you to me, or two moons circle a planet, there is resonance. It is a pattern of harmony. Within our body, resonance occurs when our heart rate, the changes of our heart rate (called heart rate variability), our blood pressure, and brainwaves all come together in a coherent signaling pattern. When this happens, our emotional and physiological resiliency increase; inflammation reduces; cardiovascular health improves; stress reduces; sleep improves; and the nervous system becomes increasingly well balanced. It is quite simple to enter into resonance; yoga, meditation, pranayama and other practices encourage it. However, there is also a specific way of breathing, that if done for about 10 minutes a day, will train your nervous system to quickly return to an equilibrium. In this talk, you'll learn about resonance breathing, and we'll have a practice session that will give you a direct experience of heart-brainwave coherence.
Eddie Stern is a yoga instructor raised in New York City. He studied Ashtanga Yoga, chanting, philosophy and ritual under Sri K. Pattabhi Jois, of Mysore, from 1991-2009, and is the co-founder of Ashtanga Yoga New York, the Brooklyn Ganesha Temple, and the Brooklyn Yoga Club; he co-publishes Namarupa, Categories of Indian Thought, a Hindu art and philosophy magazine; and runs the Urban Yogis project that brings yoga and meditation to young adults and youth in disadvantaged and at-risk-to-violence communities in NYC, with his collaborator, Deepak Chopra. He also directs, along with Barbara Verrochi and Melanie Jane Parker, Breathe, Move, Rest, a health and wellness non-profit. Eddie has published several books on Pattabhi Jois and Astanga Yoga, including a translation of Pattabhi Jois's 1960 treatise, Yoga Mala. His next book on Yoga philosophy and practice (The Little Beginner's Book on Yoga) is due out in 2018. He continues to study with Pattabhi Jois's grandson and successor, R. Sharath Jois.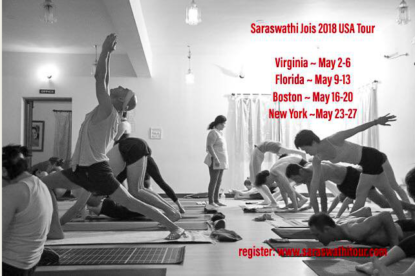 saraswathi jois teaches ashtanga yoga at the shala
union square
sign up here
Saraswathi Jois, daughter of Sri K. Pattabhi Jois, is touring the USA in May 2018 to teach Ashtanga Yoga in Charlottesville VA, Jacksonville FL, Boston and New York!
Go to: saraswathitour.com to register