events & workshops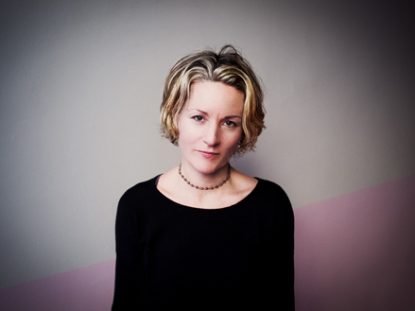 autumn breathe-ins with annie piper
Friday, September 29 + Friday, October 27
Fort Greene + Union Square
Join us for two back-to-school breathe-ins with Annie Piper, Paul Weinfeld & Leslie Erin Roth.
Friday, September 29
Fort Greene Shala
Friday, October 27
Union Square Shala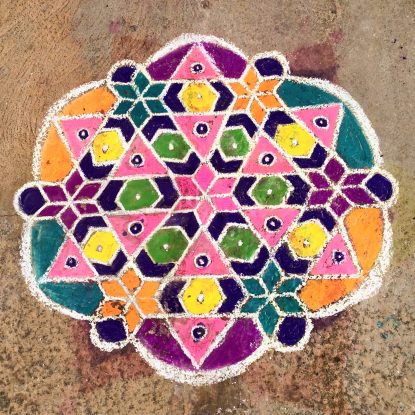 kirtan with barbara, kristin, and guests
Saturday, October 14
Free
The Shala Fort Greene
come sing with us! bring family, friends, kids, partners. everyone is welcome.
6pm-7:30pm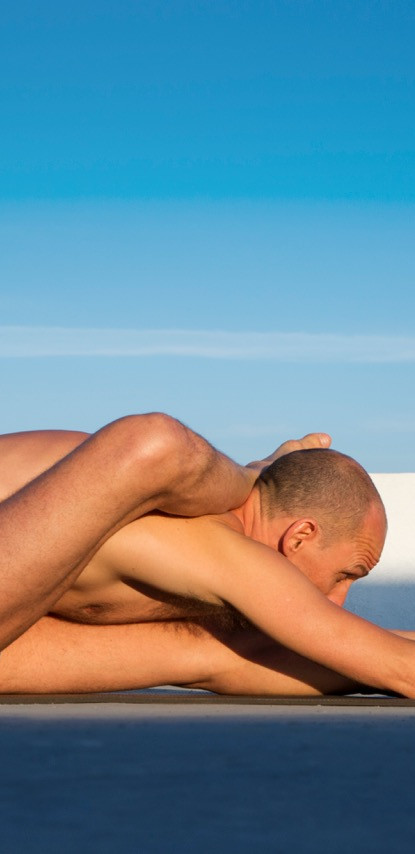 ashtanga yoga with tim feldmann
$55 per workshop; $40 for mysore
union square
sign up here
friday, Nov 3
The Breath of Pleasure & Pain – The anatomy of Our Craving Mind.
6:30-8:30pm
Are you curious about how yoga works? Are you curious about how your mind and body operates below the conscious moment? Then this class is for you. Yoga considers suffering the foundational paradigm of living. Yoga sastra also tells us whatever is 'sweet in the beginning is bitter at the end' and vice versa. How are we suppose to understand this pessimistic outlook on life? And what about pleasure? How does comfort, joy and happiness fit into classic yoga's model for living Through yogic breathing we have the opportunity to get a personal hands-on experience of this and other deep teaching from the ancient yogis. When we embody the underlying layers of yogic teachings, applying it to our lives becomes a natural gravitation. In this class you will experience how pleasure and pain offers direct and one of a kind lessons towards realizing deeper levels of yourself.  All levels welcome.

Sat, Nov 4
Mysore style Class
8:00-9:50am
Named after the city where Sri K. Pattabhi Jois lived, this is is the classic way Ashtanga Yoga is taught. A melting pot of yoga practitioners of all levels from beginner to advanced, this class sets out to offer personalized guidance to every practitioner at exactly where you need it most. Build relationship with yourself, your practice and your teacher in this inspiring energy. Honor the Ashtanga Yoga's living lineage that dates back nearly five thousand years in a unbroken line of teachers, sages and gurus, Sri K. Pattabhi Jois, his son R. Sharath Jois and every Ashtanga practitioner today.

Sat, Nov 4
Gateway Postures of The Primary Series – Bhujapidasana, Kurmasana, Supta Kurmasana, Garbha Pindasana.
2-4pm
The Primary Series, Yoga Chikitsa, is meant to heal and strengthen our body and mind, preparing ourselves for a deeper and more subtle asana exploration in the Intermediate Series, Nadi Shodana. But sometimes we get a bit stuck! the leg just won't go where we want it to or our knees, wrists or shoulders seems more achy than happy when attempting the higher notes of this series, also called the 'Gateway Postures' as they serve as indicators that our body has grown ready for a next level. But what to do when we can't find our body molding those fancy shapes?  This workshops addresses that issue. Focussing on technique, proper alignment and anatomical insights will help you understand how your body move and how to progress to a next level of your aptitude. We set up for a detailed experience of these difficult gateway postures, slowly peeling the layers that obstructs our view and motion required to find the freedom and power which Sri Patanjali promises in this yoga method.
Sun, Nov 5
Inversions, Headstands & Arm Balances
12-2pm
In this workshop you will learn practical tools to turn upside down with stability, tranquility and grace. You will gain a thorough understanding of the anatomical patterns at play in your body while inverted. Detailing the shoulder mechanics helps you integrate your arms, spine, ribcage and hip to create a solid platform for accessible and pleasurable inversions whether on your head, hands or elbows. All levels welcome.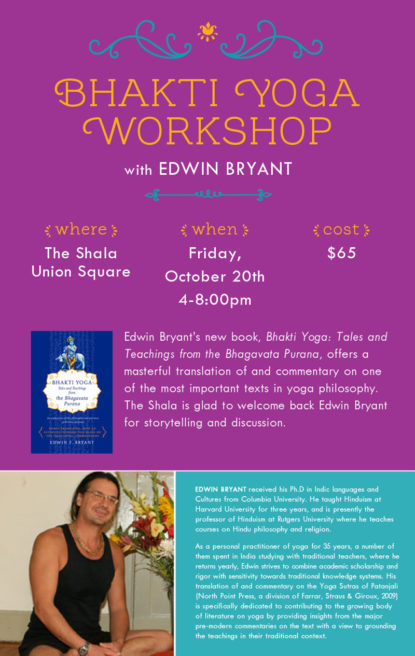 bhakti yoga workshop with edwin bryant
friday, october 20, 4-8pm
the shala union square
sign up here
Friday, October 20, 
4-8pm
Edwin Bryant's new book,

Bhakti Yoga: Tales and Teachings from the

Bhagavata Purana, offers a masterful translation of and commentary on one of the most important texts in yoga philosophy. The Shala is glad to welcome back Edwin Bryant for storytelling and discussion.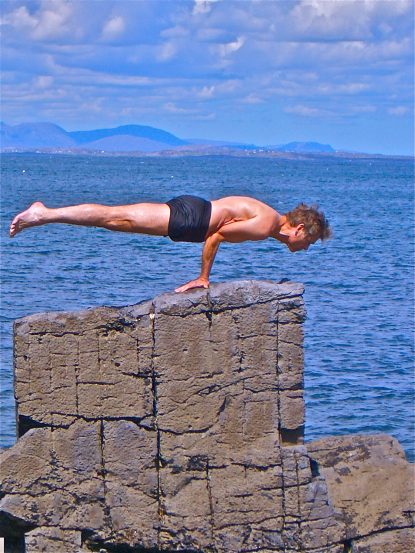 iyengar yoga classes with kevin gardiner
september 19 + september 26, 2-4pm
the shala union square
sign up here
Tuesday, September 19th, 2-4pm: Inversions: arm work and bird poses
Tuesday, September 26th, 2-4pm: Twists: Standing, seated & supine
The Shala is delighted to welcome back Kevin Gardiner, one of the world's foremost senior Iyengar teachers. Join us for two master classes this autumn.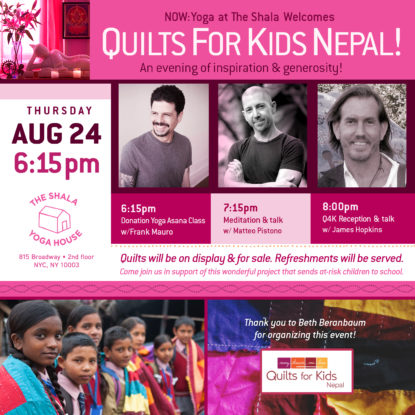 Quilts for Kids Nepal! An evening of inspiration and generosity!
thursday, august 24th, 6:15 asana class with frank mauro, 7:15 meditation and talk with matteo pistono, 8:00pm reception and talk with james hopkins
$10 suggested donation
the shala union Square
sign up here
$10 suggested donation for the full event, but people can opt to come to only the meditation and/or quilt reception for free.
The cost of each quilt is $190 which is the cost to send one child to school for the year including clothes, food, and books.
Bios:
frank mauro has been teaching yoga since 1996. he was on the teacher training staff at om yoga center from 2004 until it's closing in 2012. while on the tt staff he specialized in teaching basics and was in charge of the "how to teach basics" portion of the trainings. frank's sense of humor, ability to simplify complicated concepts and and attention to clarity have have been a staple in his beginner classes since 2001. he currently co-directs now yoga at the shala.
James C. Hopkins was born in Washington, DC and grew up in Virginia. He earned his college degree in French Language & Literature from Duke University but went on to work for more than 20 years as an investment broker in NYC and in Washington DC. In 2004 he retired as Vice President of Investments at UBS Financial Services and moved to Nepal to study Buddhist philosophy & Tibetan language in a monastery in Kathmandu. For the last 10 years, James served as the Director of Development for Ka-Nying Shedrub Ling monastery.
James C. Hopkins is also the director of Quilts for Kids Nepal, a microfinance project that operates in a community of street beggars, snake-charmers and shoeshine experts near his house in Kathmandu. The mission of Q4K is to provide work for economically-challenged women and to finance education for underprivileged children. Currently the project provides work for about 25 quilt-making women, and sponsors education for more than 50 children, mostly at girls, who are at risk for a life of begging on the streets of Kathmandu.
Matteo Pistono is a writer and meditation teacher, and author of Meditation: Coming To Know Your Mind, Fearless in and In The Shadow of the Buddha. Matteo began studying Buddhism and yoga in Nepal in the early 1990s, and later lived and worked in Tibet for a decade, which he has written about in several books. Matteo earned a Masters in Indian Philosophy from the University of London. He has engaged regularly in extensive meditation retreats over the last twenty years, and he maintains a daily yoga asana and pranayama practice.