events & workshops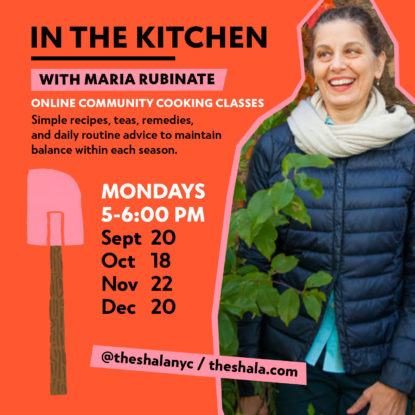 In The Kitchen with Maria Rubinate
A monthly community cooking class.
Sept 20, Oct 18, Nov 22, Dec 20
Online
sign up here
Influenced by the ancient wisdom of Ayurveda, each month Maria will provide simple recipes, teas, remedies, and advice on daily routines for maintaining balance within each season. Recipes will be posted on the website and we'll prepare them together in real time.
Menu, ingredients and preparations for Monday, October 18th, will be posted the weekend prior to this date. 
On the evening of Monday, September 20, our quick (but Ayurvedically sound!) dinner menu will be:
Split Mung Dal with Zucchini, Lime, and Coriander

Soak split yellow mung dal in the morning. A half cup of dry dal is good for two generous servings.

Red Rice
Pan Roasted Carrots
Mint or Cilantro Chutney
If you have a chance to hit your farmers market this weekend, pick up the zucchini and carrots there. This is the moment of maximum vitality for vegetable produce here, so take advantage of the abundant prana in the vegetables and fruits at the moment. See below for ingredients lists.

Dal
Split yellow mung dal
Zucchini, 1
Fresh ginger
Garlic
Dried or fresh small chilies
Turmeric powder
Coriander seed
Cumin seed
Hing (also known as asafoetida, available in Indian grocery stores—don't worry if you can't find it!)
Curry leaves (another Indian grocery store item)
Ghee, coconut oil, or vegetable oil
Lime
Salt
Cilantro

Red Rice: This can be any of the varieties that are available. Traditional red rice from India is mentioned in classical Ayurvedic texts for its superiority as a food item and medicinal benefits…but it's also super delicious! Any of the red rices are usable. There are domestic varieties available at the grocery store, too.

Pan Roasted Carrots
A bunch of small carrots (could be mixed with parsnips if you like)
Olive oil or ghee
Salt and pepper

Mint or Cilantro Chutney
Either a bunch of mint or cilantro (a mix is nice, too)
About 1/2 cup of coconut pieces (dried can be used)
Fresh ginger
Small green chili
Oil or ghee
Cumin seed, mustard seed, hing, and curry leaf for tempering
Lime juice
Salt
A blender!