events & workshops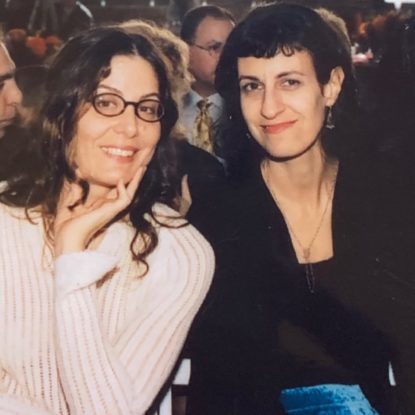 Yoga Sutras & Meditation with Maria Rubinate and Barbara Verrochi
Oct 26-27: Saturday & Sunday
Save the date. More details coming soon!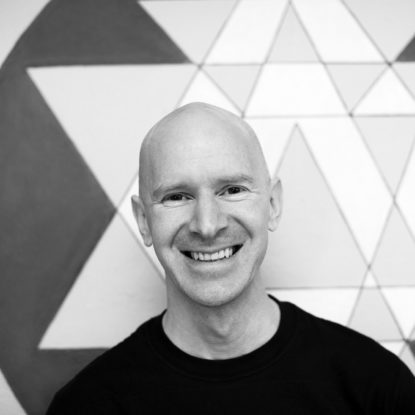 evening Lecture with Eddie Stern
Friday, Oct. 18th 6:30 to 8:30
the shala union square
Eddie Stern is a yoga teacher, author, and lecturer from New York City. He is known for his multi-disciplinary approach to furthering education and access to yoga, as well as his teaching expertise in Ashtanga Yoga. He recently released his first solo book, One Simple Thing: A New Look at the Science of Yoga, which examines in clear and simple language the underlying neurophysiological mechanisms that make yoga an effective practice. He is also the creator of The Breathing App, which guides the user in a paced breathing exercise that balances the nervous system, helping to improve sleep, and reduce stress and anxiety.
More details coming soon.
Empowering a Diverse Yoga Community with Kate Johnson
As yoga teachers, we're not just teaching yoga — we're teaching people. How can we make our classes as accessible as possible for people of all backgrounds and lived experiences?
saturday & sunday, oct 6-7
$45/workshop, $120/weekend, or $200 for credit
the shala union square
Join yoga teacher and organizational consultant Kate Johnson for a mindful, embodied approach to cultivating inclusion and avoiding harm. You will leave the weekend with best practices for teaching yoga in diverse community in an authentic, liberated way.
Kate Johnson loves working at the intersections of spiritual practice, social action and creativity, and is a participant in Spirit Rock's 2017-2021 Teacher Training Program. Currently, Kate teaches at New York Insight, The Rubin Museum, the School for Visual Arts, Spirit Rock and at the Institute for Contemporary Art in Philadelphia. She is also on staff at Buddhist Peace Fellowship, where she designs online educational programs integrating Buddhadharma and Social Justice. She is the author of Friendship as Freedom: Mindful Practices for Resisting Oppression and Building Community. www.katejohnson.com
Dates:
Saturday Oct 6
Sunday, Oct 7
Cost:
$45 individual workshops
$120 weekend
$200: 15-hours applied towards 300-hour accreditation | includes 7.5 hours homework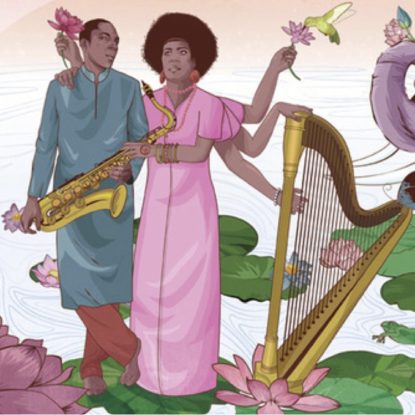 kirtan in fort greene
with kristin, barbara, and guests. Kids, friends, everyone welcome!
saturday, june 22, 6-7pm
free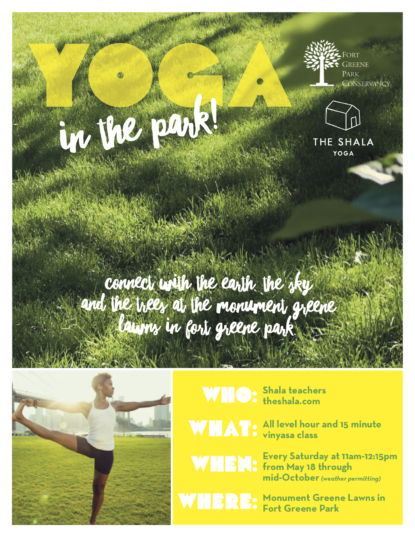 yoga in the park
Connect with the Earth, the sky and the trees at the Monument Greene Lawns in Fort Greene Park. Shala teachers will lead an all level one-hour Vinyasa class every Saturday morning at 11:00am from April through mid-October, weather permitting.
saturdays at 11am
free
monument greene lawns in fort greene park
sign up here
Schedule
May

5/18 Sasha Ginnetti assisted by Susan Raposo
5/25 no class

June

6/1 Jenny Campbell
6/8 Sasha Ginnetti / Christine Hou
6/15 Kristin/Barbara assisted by Mary Chan, Peyton Biederman, Jules, Workneh, Jonathan Sabbagh
6/22 Mary Chan
6/29 Susan Raposo assisted by Lauren Pecorella

July

7/6 no class
7/13 Anna Vomacka
7/20 Barbara/Kristin assisted by Jenny Meyer, Anna Vomacka, Jules, Workneh, Jonathan Sabbagh
7/27 Susan Raposo

August

8/3 Braeden Lentz
8/10 Jen George
8/17 Angilique Campbell
8/24 Susan Raposo

September

9/7 Braeden
9/14 Maria Margolies assisted by Paul Kovalski and Jonathan Sabbagh
9/21 Mary Chan assisted by Jenny Meyer
9/28 Susan Raposo

October

10/5 Lara Torsky assisted by Robin Newman
10/12 Alana Kessler assisted by Jonathan Sabbagh
10/19 Jenny Campbell
10/26 Robin Newman