retreats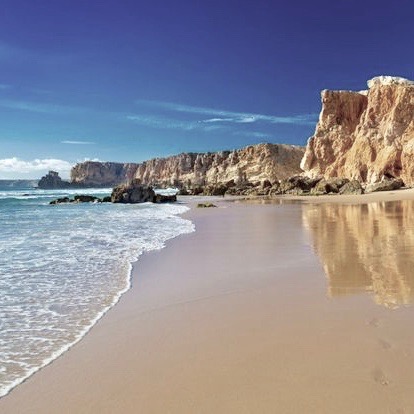 Yoga + Walking Retreat in Alentejo, Portugal with Barbara and Kristin
2 hours south of lisbon, the alentejo coast is known for its quiet beaches, verdant hills, and rota vicentina, a sprawling 200-mile network of walking paths.
July 7th to 13th, 2019
sign up here
Retreat Includes:
• Daily Yoga, Pranayama, Meditation, Philosophy & Walking
• Accomodations
• Meals (breakfast, 2 group dinners)
About:
2 hours south of Lisbon, the Alentejo Coast is known for its quiet beaches, verdant hills, and Rota Vicentina, a sprawling 200-mile network of walking paths. Our retreat will be held at Herdade da Matinha, a rural hotel in Alentejo nestled in one of the most beautiful, peaceful regions of Portugal.
Other Activities:
Beach, Pool, Surfing, Biking, Bird-watching, Cooking lessons, Horseback Riding, Relaxing
Local Food:
You can order lunch and dinner at the hotel or visit local fishing towns to eat. Orange trees are everywhere on the property and the orange juice is out of this world. Delicious Alentejo bread from the local bakery, which still operates in the old traditional open fire ovens, is also a daily treat.
Getting There:
Airfare not included—book flights to Lisbon, Portugal (LIS-Humberto Delgado). A Non-Refundable Deposit of $500 holds your space. 
We suggest you spend 2 to 3 nights in Lisbon or traveling to explore the city and acclimate to the time change. Rent a car (we can coordinate groups to share a car) at the airport and drive 2 hours south to Alentejo. We strongly suggest you to book a car in advance. You can rent a car at the airport (rentalcars.com).
Recommendations for places to Stay in Lisbon:
Casa Amora GuestHouse – Casa Amora
Birds Apartments Birds Apartments Sé, Lisbon, Portugal – Booking.com
Memmo Alfama https://www.memmohotels.com/alfama/hotel-overview.html
Casa Das Janelas Com Vista https://www.casadasjanelascomvista.com
Memmo Príncipe Real https://www.memmohotels.com/principereal/memmo-principe-real
Accommodations:
Single Occupancy – $2200
Double Occupancy –  $1600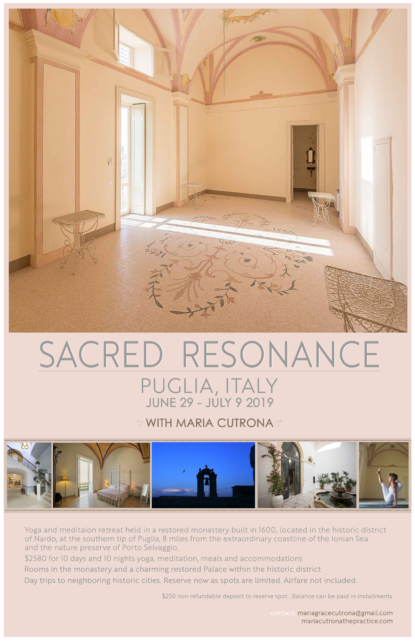 sacred resonance: join maria cutrona in puglia
june 29 - july 9, 2019
$2580
puglia, italy
join maria cutrona for a yoga and meditation retreat held in a restored monastery built in 1600, located in the historic district of nardo, at the southern tip of puglia, 8 miles from the extraordinary coastline of the ionian sea and the nature preserve of porto selvaggio.
contact mariagracecutrona@gmail.com