retreats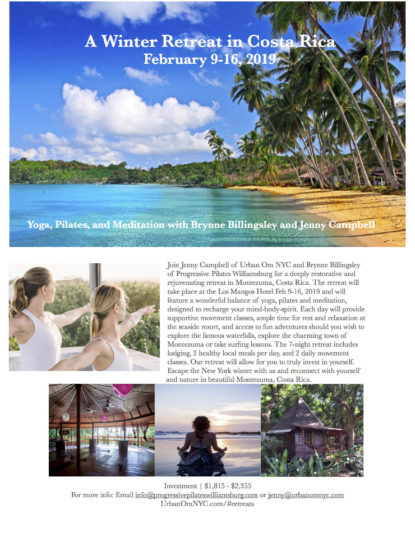 a winter retreat in costa rica with jenny campbell & brynne billingsley
feb 9-16, 2019
$1815 - $2355
montezuma, costa rica
Join Jenny Campbell of Urban Om NYC and Brynne Billingsley of Progressive Pilates Williamsburg for a deeply restorative and rejuvenating retreat in Montezuma, Costa Rica. The retreat will take place at the Los Mangos Hotel Feb 9-16, 2019 and will feature a wonderful balance of yoga, pilates and meditation, designed to recharge your mind-body-spirit. Each day will provide supportive movement classes, ample time for rest and relaxation at the seaside resort, and access to fun adventures should you wish to visit the famous waterfalls, explore the charming town of Montezuma or take surfing lessons. The 7-night retreat includes lodging, 2 healthy local meals per day, and 2 daily movement classes. Our retreat will allow for you to truly invest in yourself. Escape the New York winter with us and reconnect with yourself and nature in beautiful Montezuma, Costa Rica! Please email Jenny@UrbanOmNYC.com or visit UrbanOmNYC.com/#retreats for more information.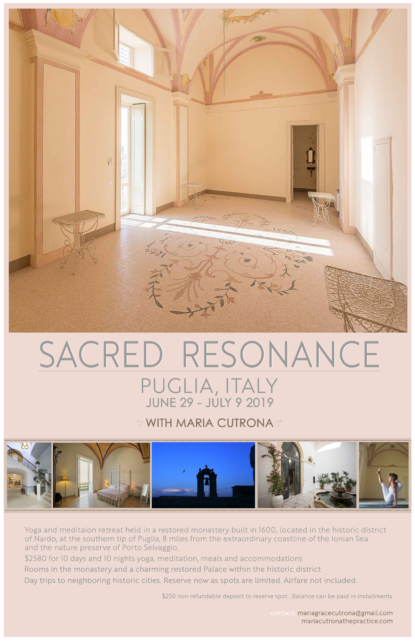 sacred resonance: join maria cutrona in puglia
june 29 - july 9, 2019
$2580
puglia, italy
sign up here
join maria cutrona for a yoga and meditation retreat held in a restored monastery built in 1600, located in the historic district of nardo, at the southern tip of puglia, 8 miles from the extraordinary coastline of the ionian sea and the nature preserve of porto selvaggio.
contact mariagracecutrona@gmail.com