retreats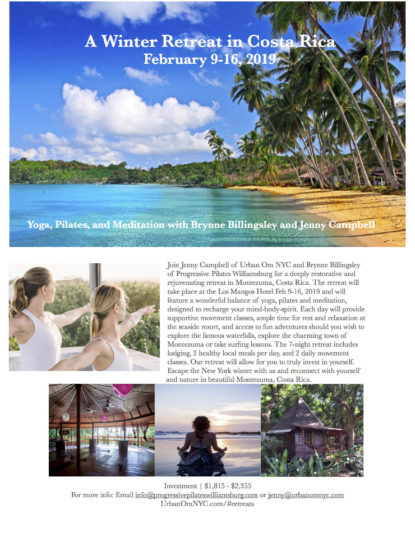 a winter retreat in costa rica with jenny campbell & brynne billingsley
feb 9-16, 2019
$1815 - $2355
montezuma, costa rica
Join Jenny Campbell of Urban Om NYC and Brynne Billingsley of Progressive Pilates Williamsburg for a deeply restorative and rejuvenating retreat in Montezuma, Costa Rica. The retreat will take place at the Los Mangos Hotel Feb 9-16, 2019 and will feature a wonderful balance of yoga, pilates and meditation, designed to recharge your mind-body-spirit. Each day will provide supportive movement classes, ample time for rest and relaxation at the seaside resort, and access to fun adventures should you wish to visit the famous waterfalls, explore the charming town of Montezuma or take surfing lessons. The 7-night retreat includes lodging, 2 healthy local meals per day, and 2 daily movement classes. Our retreat will allow for you to truly invest in yourself. Escape the New York winter with us and reconnect with yourself and nature in beautiful Montezuma, Costa Rica! Please email Jenny@UrbanOmNYC.com or visit UrbanOmNYC.com/#retreats for more information.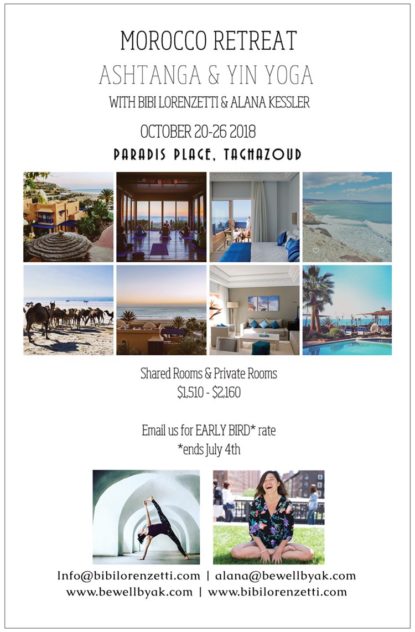 morocco ashtanga & yin yoga retreat with bibi lorenzetti & alana kessler
oct 20-26, 2018
agadir, morocco
sign up here
Join Bibi and Alana for a week-long yoga immersion on the beautiful coast of Agadir, Morocco. Agadir is nestled in the heart of one of the most beautiful bays in the world, and thanks to its climate, offers year-round sunshine in which to enjoy this vibrant city. On a 7.5 acre oasis in front of the Atlantic Ocean, this resort has direct access to the beach and features a spa and beauty center, an outdoor swimming pool and a restaurant. Free Wi-Fi is available throughout. With a large terrace overlooking the garden or the sea, rooms at Paradis Plage have modern décor with a Moroccan touch. There will be plenty of time to explore the region, surf or just relax on the beach.
Single, double and triple room accommodations $1,510- $2,300.