retreats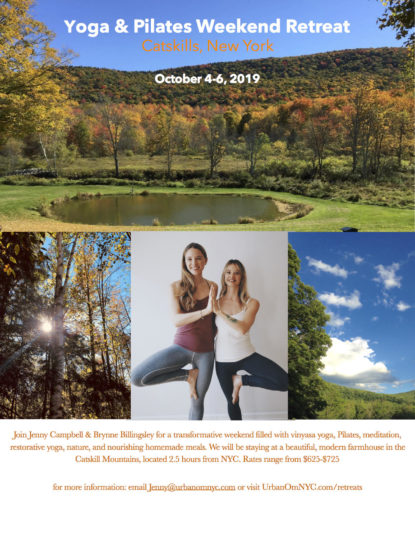 Yoga & Pilates weekend retreat with jenny campbell & Brynne Billingsley
Join Jenny Campbell & Brynne Billingsley for a transformative weekend filled with vinyasa yoga, Pilates, meditation, restorative yoga, nature, and nourishing homemade meals.
Oct 4-6, 2019
Rates range from $625-$725
sign up here
We will be staying at a beautiful, modern farmhouse in the Catskill Mountains, located 2.5 hours from NYC.
for more information: email Jenny@urbanomnyc.com or visit UrbanOmNYC.com/#retreats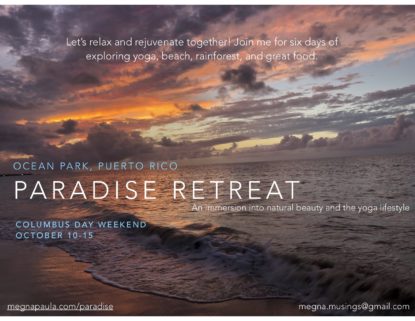 paradise retreat with megna paula
october 10-15
$2019 for a single room
ocean park, puerto rico
sign up here
We will meet in Ocean Park, Puerto Rico (a ten minute cab ride from San Juan airport; 4 hours flight from NYC) Thursday October 10th, and stay through the long weekend, parting ways on Tuesday October 15th, feeling relaxed and rejuvenated from six days of yoga, beach, exploration, fresh fruit, full sun and amazing food.
I'm designing a sweet and intimate experience for us, limiting the group to 8 people, which will give you and I the opportunity to spend meaningful time together and deepen your yoga practice, no matter how long you've been practicing (teachers as well as beginners are welcome!). Nothing is mandatory and everything is included: daily yoga, sunrise/sunset meditations, day trips to beautiful local places (including the rainforest!), the best brunches, and a full immersion into the natural beauty of the island.
We'll be staying at the enchanting Dreamcatcher, where I have been staying for the last few years of visits to Ocean Park. You will love it; just one block from the beach and five minutes walk to restaurants, cafes, fruit stands, and açaí bowl heaven.
yoga retreats with shala teachers
retreats provide a precious opportunity to develop concentration and insight through deep practice.
sign up here