200-hour Shala Teacher Training
Yoga Alliance Certified
March to November 2021 (July/August no classes)
About You
You love yoga and want to learn more about it. You would like to develop your own consistent practice, and perhaps share what you discover with others. Our comprehensive and rigorous curriculum is designed to suit students interested in becoming skilled teachers, as well as practitioners searching for a deeper connection with this profound tradition
About Us
We value an authentic approach to the study of yoga. From our classes to our workshops to our teachers, the Shala culture reflects a commitment to the principles of sthira and sukha, or steadiness and ease. The 200-hour Teacher Training aims to cultivate these qualities in our trainees—physically, philosophically, and professionally.
Training
The Shala's 200-hour training is held over the course of ten weekend-long sessions at our vibrant Union Square studio. Our training will focus on developing:
A consistent practice

Your voice as a teacher

Intelligent, safe, and creative sequencing

Clear and precise alignment instruction

Effective adjustments and assists

Flexible and appropriate approaches to teaching both beginner and intermediate/advanced students

A consistent meditation practice
We'll engage with the therapeutic applications of yoga:
Injury and anatomy

Restorative

Yoga as a healing art

Prenatal and postnatal
and expand our understanding of yoga as a vital, evolving tradition:
Tracing Lineage, History, and Philosophy of Yoga

Pranayama

Anatomy and Physiology

Chanting and Sanskrit

Ayurveda

Meditation
Community
When we gather for training sessions, we observe the importance of learning and growing alongside one another. This program provides trainees with meaningful opportunities to develop and explore the many facets of yoga within a supportive community.
Training Dates and Hours: TBA
Primary Teachers: Barbara Verrochi, Kristin Leigh, Annie Piper, Maria Rubinate, Maria Cutrona, and Julianna Takacs.
Requirements:
25 classes at the Shala

In-class privates

Class observations

Anatomy and asana worksheets

Close reading of texts

Dharma reports (dharma talks based on reading)

Memorization of Yoga Sutras

Meditation and journaling
Tuition:
$2500 full payment before February 1st.

$2700 after February 1st. A $500 non-refundable deposit is required before training begins.

Inquire about payment plan. We add on $75 for payment plan processing. 

Work study is available for reduced training prices.

We are offering partial scholarships for BIPOC (Black, Indigenous, People of Color) students, in

keeping with The Shala's aspirations for a more racially diverse teaching body.
To apply for the Shala's 200-hour Advanced Training, inquire at info@theshala.com to begin the registration process.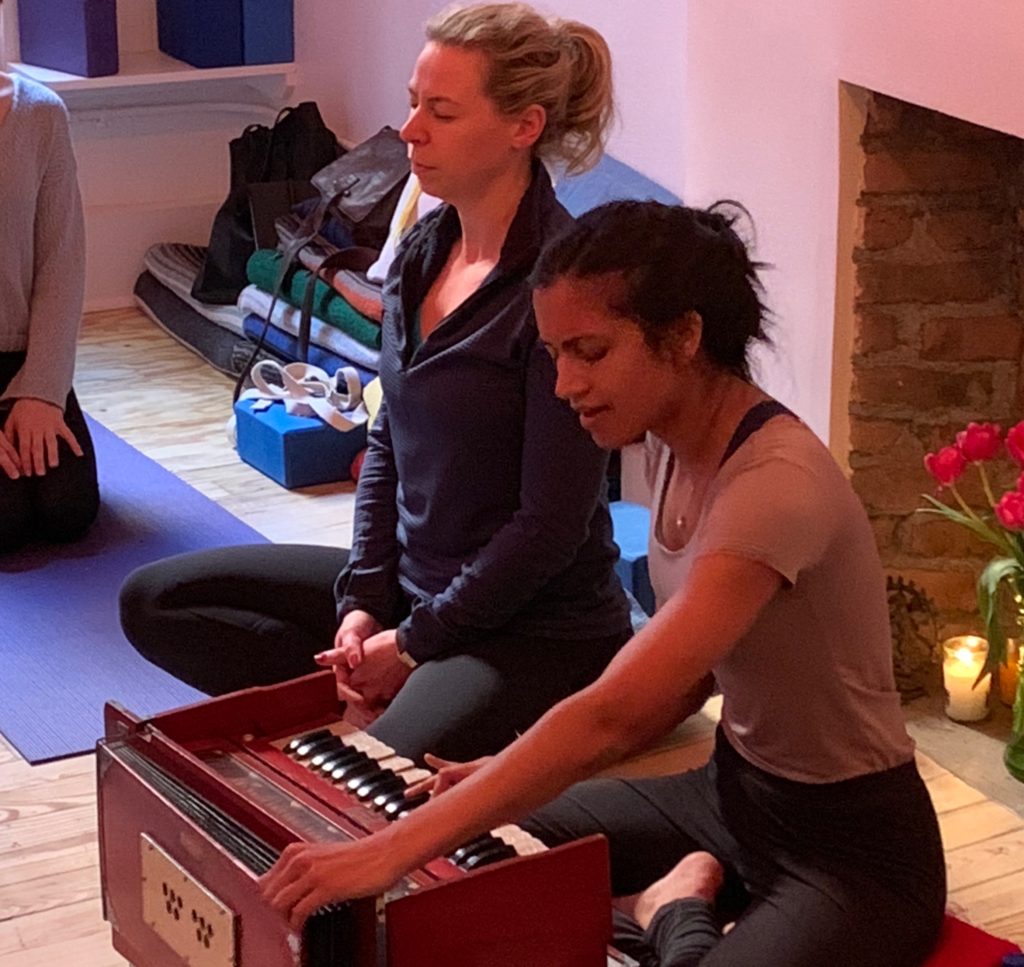 "I really loved being part of The Shala YTT, I met the most wonderful and supportive group of yogis – teachers and fellow TTs alike. We are still in touch as we continue our journey. We learned so much about all aspects of yoga such as anatomy, sequencing, meditation, sutras, sanskrit, bhagavad gita, ayurveda, different styles of yoga, like restorative and prenatal and were really immersed in what it means to be a yoga teacher. I also appreciated that the common theme of the training was to find our own voice and style. We were guided so beautifully by all the teachers who shared their unique wisdom and experience. Now we can choose to dive even deeper into whatever area we are most drawn to on this great path. I am so grateful to Barbara and Kristin for creating this program in a safe and supportive space and feel lucky to have been a part of it."
Julia Reimer
"The Shala YTT program has been a rich and wonderful experience all around. I was initially attracted to the training as a way to deepen my own practice and understanding of the many facets of yoga — including yoga history & philosophy, ayurveda, chanting, meditation, and so much more. But I quickly became fascinated by the tools and techniques one needs to become a teacher, such as sequencing, anatomy, an introduction to various styles of yoga, and rich and important conversations on cultivating diverse and inclusive yoga communities. Not only have I had the chance to travel much further on my yoga path than I'd imagined, but I also became acquainted with and connected to a supportive, talented, and compassionate group of teachers and fellow teacher trainees. The Shala YTT program is thoughtfully designed, expertly led, and open-heartedly encouraging. Barbara and Kristin have created a beautiful, welcoming, and accessible space for all who wish to pursue this path."
Shana Kimball