on the walls
rangolis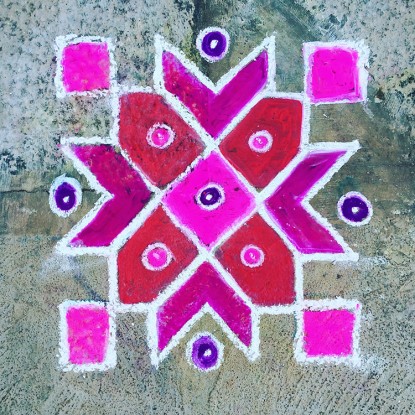 Rangoli is a sacred art form traditionally created by women using rice powder or chalk on the entrance ways to homes in India. The designs vary in meanings but the purpose of them is to welcome in the gods and protect the home.
A new one is created each day and at the end of the day it is washed away, which like yoga, is a reminder of the impermanence of life and the importance of living in the present moment and to live each day well.
The photographs in this exhibit are of rangolis I created on the ground with colored chalks and chalk powder in Mysore, India while practicing at the K. Pattabhi Jois Ashtanga Yoga Institute with Sharath Jois. Learning rangoli from my teacher Saraswathi (pictured in the exhibit) is one of the most precious parts of my time there and I look forward to returning to learn more. The watercolor paintings are one of a kind original and were done upon my return.
Photographs can be ordered in sizes 8×10, 11×14, 16×16 or bigger upon request. Framed or unframed.
Prices available upon request.
Contact ashleydorr@hotmail.com