retreats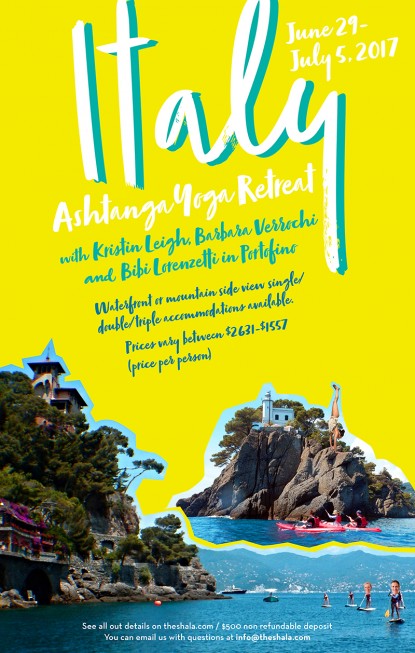 Ashtanga retreat in Portofino, Italy with Kristin, Barbara, and Bibi
June 29-July 5th
Hotel regina elena, santa margherita
sign up here
portofino, italy
June 29 -July 5th 2017
kristin leigh, barbara verrochi & Bibi Lorenzetti
hotel regina elena, santa margherita
Join the Shala Yoga ladies on this week long Ashtanga Yoga Retreat, in Portofino, Italy.
Discover the Portofino Coast, beautiful Cinque Terre and it's surroundings—eat delicious food, swim in crystal clear waters, and learn all sorts of water sports with Bibi's brother.
​Retreat Includes:
• 6 Mysore sessions (beginners to this practice are welcome)
• 6 nights at Hotel Regina Elena
• 5 group Breakfasts
• 3 group Dinners
• Private beach & pool access with towels
Suggested Group Activity:
• Group Sunset Kayak Aperitivo ($32 per person)
Bibi's brother Tommy and his girlfriend Alessandra – owners of Outdoor portofino – will be taking us on a two hour kayak tour along the Portofino preserved coastline. We will stop along the way, on a beautiful rock, to have an aperitivo, as the sun goes down, with local wine, cheeses, veggies and more…
Cost:
Double room with balcony overlooking the Liguria hills:
• single person: $2,373
• 2 people: $1,677 per person
• 3 people: $1,557 per person
​Double room with balcony overlooking the Mediterranean sea:
• Single person: $2,631
• 2 people: $1806 per person
• 3 people: $1641 per person
​(Airfare not included – book flight to Milano. Details on how to get from Milano to Santa Margherita to come)
A Non-Refundable Deposit of $500 by Jan 31st.
​Activities on site with Bibi's brother include:
• Surf & wind surf lessons
• snorkeling tours
• sailing lessons
• sup lessons
• hiking the Portofino Mountain
• board rentals
All options and pricing here. Space is limited. You may want to pre book.
kids activities:
info here
pre-registration recommended
​Hotel:
hotel regina elena
Info on Portofino and surroundings:
http://www.smlturismo.it
http://www.livesanta.it
​For more information or to reserve your spot, contact:
info@theshala.com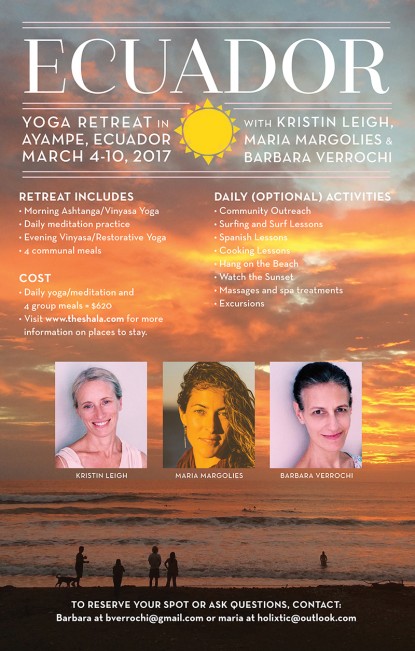 Yoga Retreat in Ayampe, Ecuador with Maria Margolies, and Barbara Verrochi
A week of yoga, meditation, surfing, community outreach, and more.
March 4-10, 2017
sign up here
Retreat Includes:
• Morning Ashtanga/Vinyasa Practice
• Daily meditation practice
• Evening Vinyasa/Restorative Yoga
• 2 group breakfasts and 2 group dinners
Create your own package: The cost of this retreat includes yoga, meditation, and 4 shared meals (2 breakfasts, 2 dinners). All other expenses and arrangements can be made at your discretion! See below for more information.
Places to Stay:
Choose your own hotel and book it separately depending on budget and preference.
Here are some places we recommend:
lacasasurfandyoga.com, spondyluslodge.com, latortuga.com, surflabuenavida.com, ayampeguesthouse.com, fincapuntaayampe.com
Yoga Room: We will meet each morning and afternoon at the yoga deck at Otra Ola. otraola.com/yoga-class-ecuador
A Few Things to Do:
• Community Outreach: Shala students and teachers can volunteer-teaching yoga and English to local kids, as well as working in the garden at Casa Jaguar.
• Surfing and Surf Lessons
• Spanish Lessons
• Cooking Lessons
• Hang on the Beach
• Watch the Sunset
• Massages and spa treatments
• Excursions
Travel:
Book your own flight to Guayaquil
We can help arrange airport pickup and drop-off to and from Ayampe
Cost:
• Daily yoga/meditation and 4 group meals = $620
For more information or to reserve your spot, contact:
Barbara at bverrochi@gmail.com
or maria at holixtic@outlook.com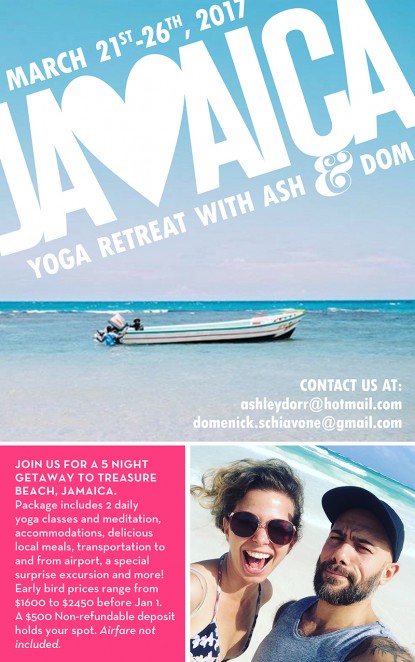 Jamaica yoga retreat with ashley and domenick
March 21-26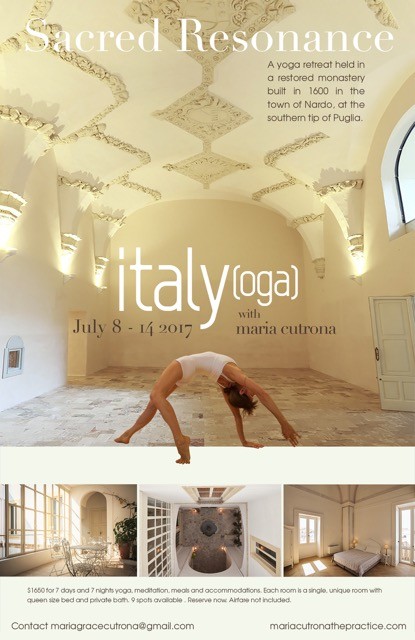 Italy retreat with Maria Cutrona
July 8 to 14
to sign up, go to mariacutronathepractice.com