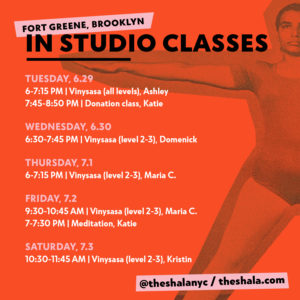 Welcome back
We appreciate your patience with the space as we gradually move back in. As you know, a Montessori preschool is subletting until June—this arrangement has been instrumental in helping us make it through the year—so we are working around their supplies and furniture in these first weeks of in-person classes. By the end of June it will be a full Shala again, but for a little while it will feel a little like a hybrid preschool/yoga school! 
Below is some information for you:
For the time being, in-person classes are open to

fully vaccinated students only

.

If you are feeling sick or have felt sick in the last 72 hours (fever, sore throat, dizziness, runny nose, aches, chills, sweats, etc.) please do not attend in-person class. 

We will take temperatures upon arrival. 

By attending class you are confirming that you (1) Have not had any COVID-19 symptoms in the past 14 days, (2) No positive COVID-19 test in the past 14 days, and/or (3) No close contact with confirmed or suspected COVID-19 case in past 14 days. 
Props and Assists

Bring your own mat, strap, and/or any other props. Thoroughly sanitized yoga blocks will be the only props provided.

We will refrain from offering hands-on assists for now.

Masks and Sanitation

Masks will be optional.

Wear a comfortable, secure mask that allows you to breathe easily.

Wash and/or sanitize hands upon arrival and departure.

Space

Spaces will be marked according to social distancing standards.

Each practice space and the studio in general will be cleaned before and after each class. (

There is a small preschool in the back part of the space until the end of June.)

Ventilation

We will have two HEPA filters on. 

We will have fans running in the windows.

Doors and windows will be open.
Registration
Please register for class online in advance. We are not currently allowing drop-ins or accepting cash.

If registration is full, you may sign up for the waitlist. We will let you know 2 hours prior to start time if a space opens up.

If you are unable to attend a class you're pre-registered for, please email us at least 48 hours before start time and we will credit your account. Cancellations within 48 hours will not be credited. No refunds.

 

All classes are $24 while we operate at limited capacity. No class cards. To purchase, go to theshala.com