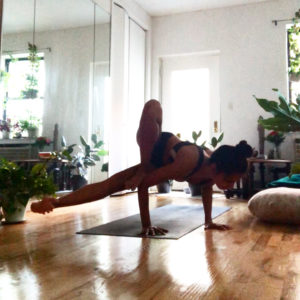 To the Shala, with love from Megna Paula:
It is both a joy and an honor to introduce Rocket Yoga to the Shala! We have a 14 year long history of being the yoga home for both traditional Mysore teachings of Ashtanga, as well as space for Vinyasa classes that honor the foundations of traditional lineages. A few yogis of our community have experienced the Rocket in San Francisco, where it was created in the spirit of the rebellious 60s and 70s. Rocket classes still carry that laid back West Coast creative vibe, in a way that translates as bright NYC energy.
Lineage
Larry Shultz studied Ashtanga with Pattabhi Jois in Mysore, India, and returned to San Francisco to teach the traditional practice until he was hired by the Grateful Dead to be their on-tour yoga teacher. Larry created a new system of vinyasa yoga to introduce his students to the postures of Ashtanga's First, Second, Third and Fourth series while maintaining the focus on flowing movement with breath. Bob Weir named these sequences the Rocket, because it "gets you there faster." One of the oldest vinyasa lineages, it carries a beautiful balance of foundation and fun.
Feel
The Rocket Yoga flow has all the joy of vinyasa yoga. Sequences are creative and encourage you to explore and express your strength and range of motion. Unlike many vinyasa classes, Rocket stays very rooted in Ashtanga Yoga, closely following sequences of the seated postures as well as teaching the power of breath (ujayi), bandhas (energetic lifts), and dristi (focused gaze and mind). We leave out the dogmatic elements of Ashtanga, playing with first, second, and third series postures, and skip the dance choreography elements of vinyasa yoga, knowing that simple, clear practices are the most effective.
Come flow, float, and fly!
My first group yoga classes were the Rocket! I was a pre-med Neuroscience major at Duke University and fell in love with the Ashtanga flow immediately. It was the perfect introduction to Ashtanga Yoga, so that when I began practicing Mysore Ashtanga after graduation, I learned first series very quickly. Rocket is the perfect way to experience the postures and benefits of Ashtanga for those who are interested in learning Ashtanga but don't feel drawn to Mysore and Led classes. Rocket is also the best place for Ashtangis who want to challenge their practices in a new way, getting a taste of postures still far ahead in the Series.
Wherever you are in your practice, Rocket will pick you up, lift your energy, and inspire you to see yoga in a fresh new light! Join us for class at the Shala USQ on Tuesdays at 5pm.
Xo
Megna